January 17, 2021
Where we've been, where we're going. Here's a quick look at last year's wins and some of the most exciting things Humotech is unleashing this year.
Happy New Year to all of our readers.
2020 was a whirlwind of a year. Despite the obvious setbacks, we've kept our heads down (and masks on) and kept moving, launching new products, new research, and new partnerships. The year also brought a lot of successful 'firsts,' including our very first international customer and first virtual installation (Queen's University in Canada), plus the debut of this blog.
Now, we're bringing all of that hard work to the fore in 2021 with a lot of exciting new developments. Here's a sneak peek at just a few of them:
On the Prosthetics Front
Improving the lives of patients with lower limb amputation (LLA) is the driving force behind our prosthetics R&D. That has brought us together with researchers and clinicians at top medical and research institutions in the U.S. (check out some of our past studies), including the University of Nebraska at Omaha and the VA Puget Sound Health Care System.
This year brings new collaboration through a study led by Dr. David Morgenroth involving the VA Puget Sound Health Care System and the Minneapolis VA Health Care System (funded by CDMRP OPORP). We're exploring the relationship of prosthetic foot mechanical properties and balance and stability issues that are common among people with LLA. To do that, we're developing a new prosthetic foot, "PRO-003," which we'll integrate with the existing Caplex platform to realize a 2 degree-of-freedom prosthetic foot emulator with independent control of plantarflexion/dorsiflexion and inversion/eversion. Click the video below to see what a 2-degree-of-freedom emulator looks like in action.
Caplex—In a Backpack?
That's right, get ready for the Caplex Backpack System! Last year, we made headway on new technology that turns the Caplex system into a fully mobile operation via a wearable backpack. With an untethered, battery-powered controller and actuator, users are able to strap on the backpack with an exoskeleton end-effector and take Caplex off of the treadmill. Check out the video below for a glimpse of the prototype with the EXO-005 ankle exoskeleton.
We're beyond excited about this—it offers many new opportunities and capabilities for both test-driving wearable assistive devices and scientific research. Our first version of the Caplex Backpack System plus ankle exoskeleton emulator went to Dr. Chris Atkeson at the Carnegie Mellon University Robotics Institute, known for his research in humanoid robots, soft robots, and machine learning.
This year, we plan to deliver a custom version of the backpack with an ankle exoskeleton to an industry leader in athletic wear. Stay tuned, we'll be announcing more about this technology in the months ahead!
Customer Spotlight: Studying Cerebral Palsy in Children
This year we'll be delivering a custom Caplex system to Gillette Children's Speciality Healthcare in Minnesota. They plan to use the system to study children with cerebral palsy and the determinants of energy expenditure in their walking. This will be the first time a Humotech system will be used to study cerebral palsy and the first time focusing on children's healthcare.
Demos and a Brand New Lab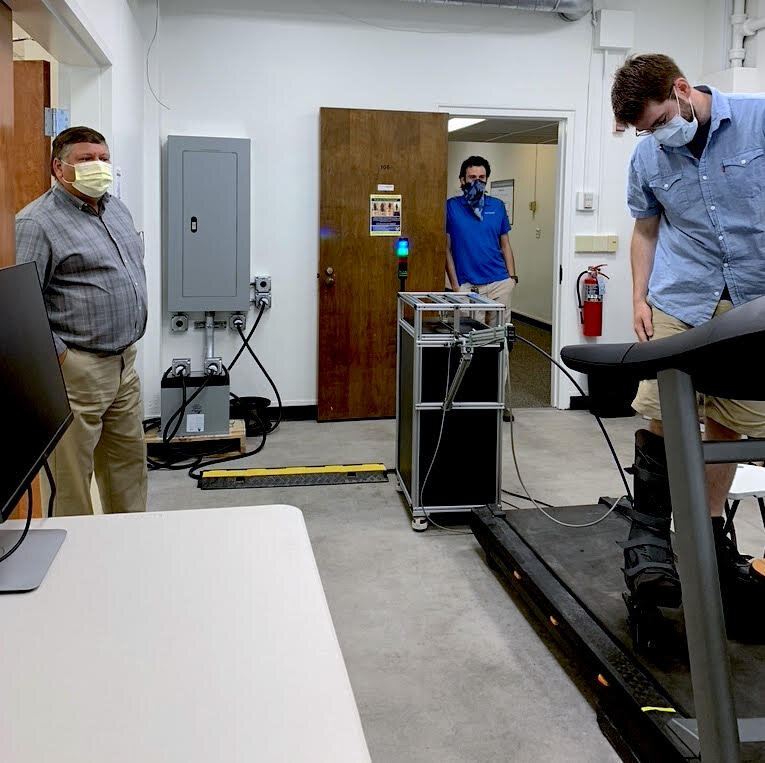 Last year was a big step for Humotech. We moved operations to our new home at the University of Pittsburgh Applied Research Center (U-PARC). Unfortunately, shortly after that the COVID-19 pandemic hit and made things all the more challenging. Still, we found ways to safely host several demos of the Caplex system for clients in the lab while following social distancing protocol. We look forward to hopefully leading more in-person demos this year and will continue to offer virtual demos.
Interested in a demo? Please drop us a line here or call (412) 301-5082.
Exoskeleton Sizing for All
Our clients at Queen's University Neuromechanics Lab requested that we make our exoskeleton emulator (EXO-001) available in smaller sizes. That gave us the opportunity to do just that, and we now offer our exoskeleton models in a wider size range (US men's 4-12). This opens critical doors to bring more women into the fold of test-driving exoskeleton and prosthetic devices.
Team Humotech, Upgraded
We recently brought on some talented new individuals who are helping to take Humotech to the next level, and this year we plan to grow the team further. Gabriel Forsythe y Korzeniewicz was hired as Director of Sales, sharing his passion for advancing tech for the disability community (read an interview with Gabriel).
We also brought in John Mangual as Humotech's new Product Manager, where he focuses on customer support, R&D, and business development. Hailing from Buffalo, NY, John initially spent time interning as a product analyst at Humotech while earning a B.S. in mechanical and biomedical engineering at Carnegie Mellon. He took part in the LifeX Labs accelerator program last year, working on the clinical translation of Humotech's prosthetic foot emulator.
John says: "You see all of these really cool inventions and innovations in research labs, and it's like the technology from movies coming to real life. It's exciting, but there's obviously a limit to that. A lot of research labs are pretty inaccessible for the general population. If exoskeletons and high-performance prosthetics are to ever be productized, a lot of work related to commercialization needs to be done."
That work includes developing implementation protocols, finding optimal use cases, clinical trials, and making products more accessible for clinical use. It's the clinical translation challenge (as well as the fast-paced startup energy) that brought John to the Humotech team.
Publications We Think Are Awesome
Innovation grounded in science is our raison d'être, so it is incredible to see more and more of the research we have touched in some way reach the publication stage. Several Caplex customers published full-length manuscripts in 2020; here are some of our favorites:
We'd like to thank all of our clients and partners for their support in 2020. We look forward to an inspiring and productive 2021. Full speed ahead!
Questions? We've got answers. Contact Gabriel at [email protected] or call (412) 301-5083.